RASANT
Summary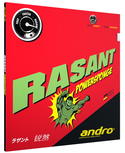 Andro Rasant Powersponge
Be proactive and play RASANT POWERSPONGE! Experience the fusion of long-lasting delight in playing and huge control provided by the soft sponge's elasticity. Be creative: change between ...

Andro Rasant Turbo
Discover the possibilities given by the ultra-spinny RASANT topsheet!React on your opponent's topspins by playing harder and more dangerous counterspins! Carry spin and speed to extremes! Play ...

Andro Rasant
Can this rubber bear a different name than this?Certainly not - in case of andro's new top rubber Rasant the name says it all. Maximum acceleration and ...